Bot settings for HIRN FTX Signals (Spot)
We will explain how to set up HIRN FTX 3x Signals for 3Commas.io.
Read till end of this blog to understand how to create a 'Bot'.
Three types of settings for 3commas.io are described below ( Conservative, Moderate and Aggressive).
Conservative settings-In this settings, 1:1 Risk reward ratio is used. This means that profit and loss are equal. Also safety order minimizes the risk too. And the 'Take profit %' will be taken from the 'Base order volume' .Safety orders try to sell the target from the base order.
Moderate settings ( Balanced risk ) – 1:1 Risk reward ratio method is used here too. Trailing take profit is the main advantage of this method. If each safety order is triggered, take profit will be taken from the total volume of the trade. This mean if the base order is $10 and take profit is 2%, then normally that makes 2% profit from $10. But incase the safety orders are triggered with $10, then the take profit is 2% profit from $20(Base order+ safety orders= Total volume).
Aggressive (High risk) – In this method stop-loss should not be used(stop loss in this method may trigger high loss. Bot settings used here is not apt for stop loss). But maximum safety order advantages have been used for this settings. Incase the price dropped below the "Maximum safety order deviation", then you need to wait for the opposite trend or you can manage the coin with manual safety order. ( Reserve at least 40% fund from capital amount to do this manual safety order prosses. It does not mean you need to use 40% reserve fund for a single coin ).
Set bot with an appropriate settings link given bellow. open the link then "copy" the settings.
FTX Spot coins Bot settings Links.

#2
Available Coins list
Coins available in this channel are tabled below.
3x Leveraged Tokens

USD_BNBBULL
USD_BNBBEAR
USD_BULL
USD_BEAR
USD_ETHBULL
USD_ETHBEAR
USD_LINKBULL
USD_LINKBEAR
USD_LTCBULL
USD_LTCBEAR
USD_BALBULL
USD_BALBEAR
USD_BCHBULL
USD_BCHBEAR
USD_COMPBULL
USD_COMPBEAR
USD_KNCBULL
USD_KNCBEAR
USD_SUSHIBULL
USD_SUSHIBEAR
USD_TRXBULL
USD_TRXBEAR
USD_UNISWAPBULL
USD_UNISWAPBEAR
USD_DOGEBULL
USD_DOGEBEAR
USD_EOSBULL
USD_EOSBEAR
USD_MKRBULL
USD_MKRBEAR
USD_XTZBULL
USD_XTZBEAR
USD_ADABULL
USD_ADABEAR
USD_GRTBULL
USD_GRTBEAR
USD_MATICBULL
USD_MATICBEAR
USD_VETBULL
USD_VETBEAR
USD_XLMBULL
USD_XLMBEAR
USD_ALGOBULL
USD_ALGOBEAR
USD_ATOMBULL
USD_ATOMBEAR
USD_ETCBULL
USD_ETCBEAR
USD_THETABULL
USD_THETABEAR
FTX Spot Coins ( USD Pair only )

USD_AAVE
USD_BAL
USD_BAND
USD_BAT
USD_BCH
USD_BNB
USD_BTC
USD_COMP
USD_CRV
USD_DOGE
USD_ETH
USD_GRT
USD_HNT
USD_KNC
USD_LINK
USD_LTC
USD_MATIC
USD_MKR
USD_OMG
USD_RSR
USD_SNX
USD_SOL
USD_SUSHI
USD_TRX
USD_UNI
| | |
| --- | --- |
| Name | Any name for your bot, you will see it in your bots list and active trades. You can name it by trading pair or settings. |
| Exchange | Select You FTX account |
| Bot Type | Select "Composite" |

| | |
| --- | --- |
| Max Active Deal | 20 |
| Profit currency | Quote |
| Base order size | $10(Minimum) |
| Safety order size | Use the same amount as the "Base order size" for the "Safety order". |
#5
Deal start condition section
Make Sure the Deal start Condition Must be "

HIRN FTX 3x SIGNALS

"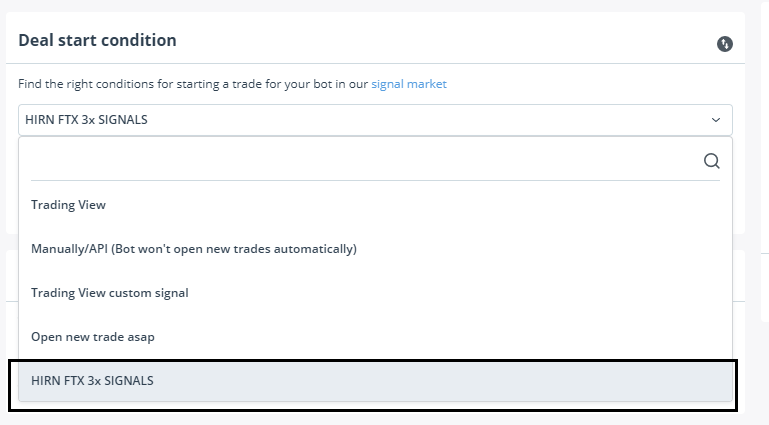 | | |
| --- | --- |
| Target profit (%) | 5 % |
| Take profit type | Percentage from base order volume |
| Trailing deviation | 0.5 |

| | |
| --- | --- |
| Stop-loss | 23.71 % |
| Max safety trades count | 3 |
| Max active safety trade count | 2 |
| Price deviation to open safety orders(%from initial order) | 7.5 |
| Safety order volume scale | 1 |
| Safety order step scale | 1 |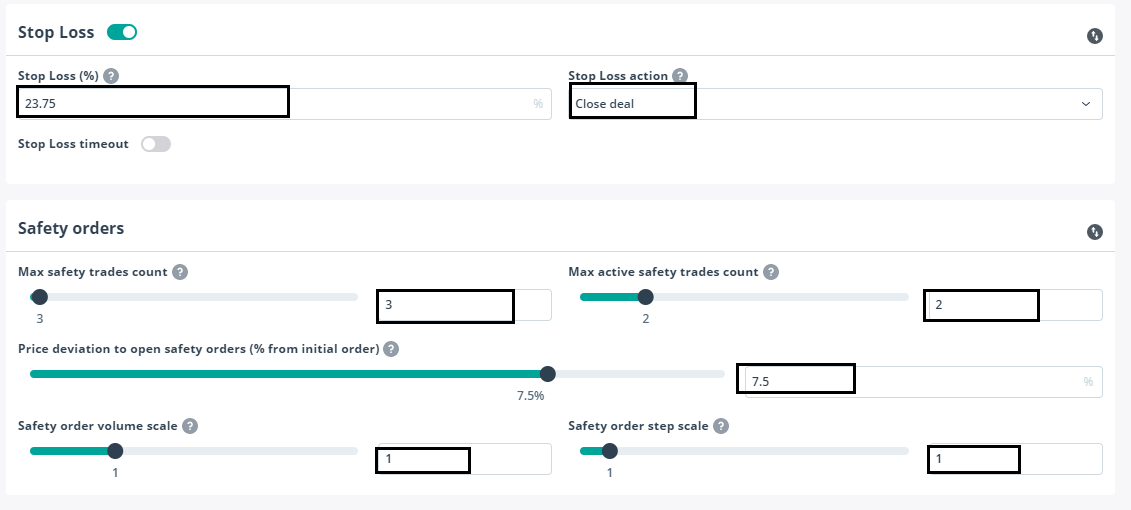 | | |
| --- | --- |
| Cooldown between deals | 3600 |
| Simultaneous deals per same pair | 1 |


Then save and start bot
Subscribe to our Newsletter or Telegram Update Channel to get updates, adding new coins and offers (See the side bar menu).