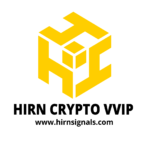 HIRN CRYPTO VVIP Channel provides Spot Trading Signals for Binance Exchange. All signals are specific for BTC and USDT Pairs. These Signals are generated by Algorithms which work on 4 main factors.
 Market Trend Analysis
RSI Overbought indicators
RSI Divergence indicator for bullish signals
Buy Order and Sell Order Analysis
These are Scalping Signals which can fetch you a safe minimum profit of 1% per trade. Our recommended profit percent is between 1.5 to 1.8%. You can achieve even more profits by using Sell Trailing options in trading bots.
---
These signals will not supported for Binance margin or futures trading
Supported Exchanges: Binance
Supported Trading Pair: BTC , USDT
Default Stop Loss between 3% or 5% (when you use stop loss please ignore safety orders settings and vice versa)
Patience Pays: Some deals will close very quickly, and some will take longer. Don't despair- be patient. Make sure to leave a percentage of your funds available to make use of the Add Funds button for manual safety trades.
---
Desclaimer: We don't provide any guarantee about our signals. If you decide to use our signals, you are taking full responsibility for the risks involved.
These signals are shared by algorithm based programs and they cannot be considered as financial advice.