Cryptohopper - A Quick tour
How to configure the 'HIRN CRYPTO VIP' channel in CRYPTOHOPPER?
We explain in this blog how to configure the 'HIRN Crypto VIP' channel for cryptohopper.com, read till the end to understand how to configure the bot. The list of coins and the parameter values of the settings are included below, including the screenshot.
First, subscribe to the channel via the link below.
https://www.cryptohopper.com/marketplace-user/signaller?signaller_id=222
If you subscribe to the channel the button will show up in red color "Unsubscribe", and configure button.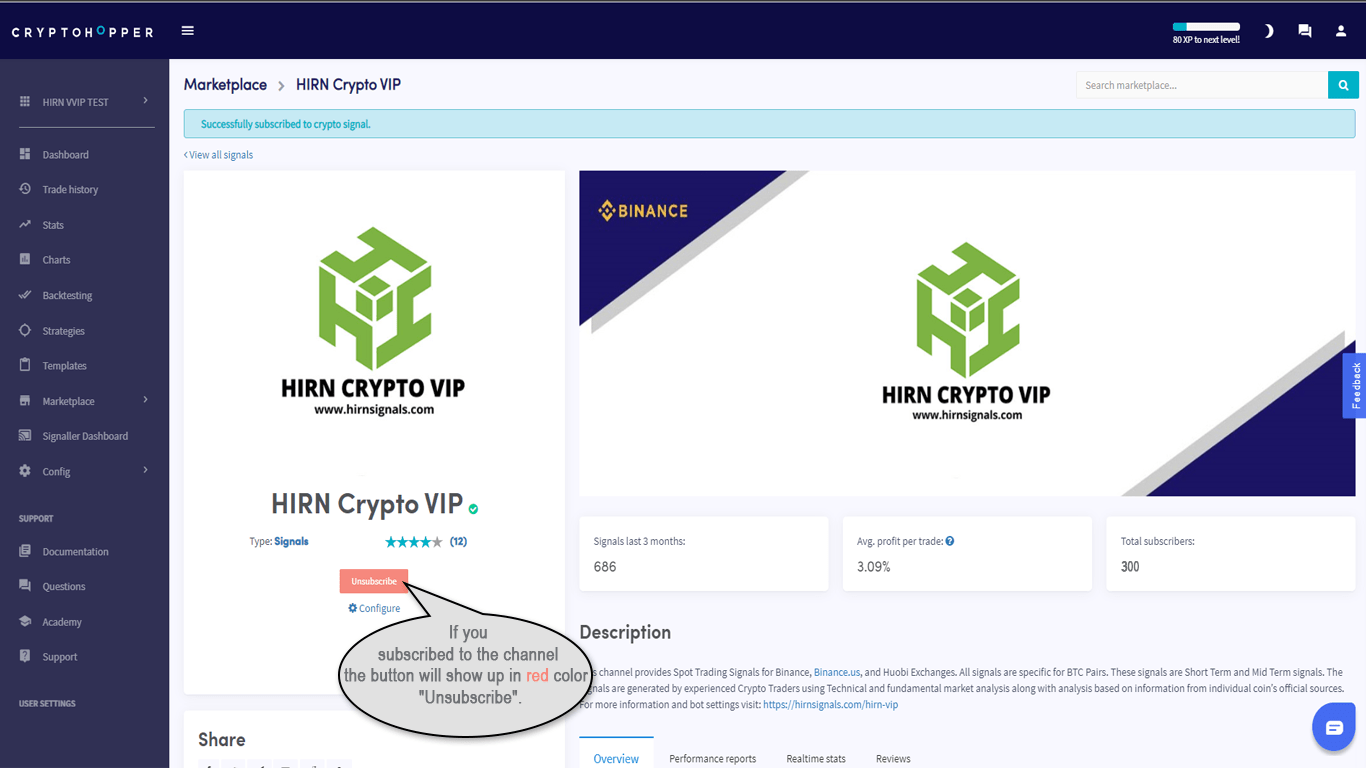 Then click the 'Configure' button to configure the bot.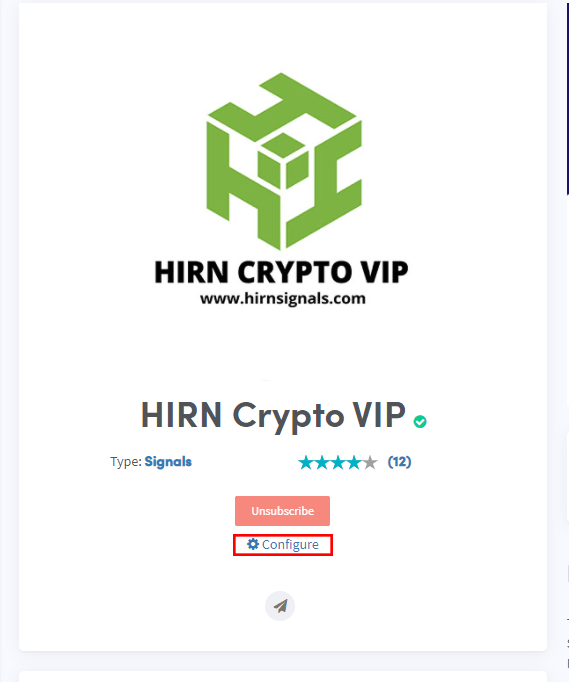 Set as shown below:
Pause signal: 'Disable'
Market order: 'Enable'
Buy amount in 

BTC: Add an amount not less than '0.001'

Take profit at: 4%
Percentage bid: 'Leave as by default'
Percentage ask: 'Leave as by default'
Sell signals: 'Disable'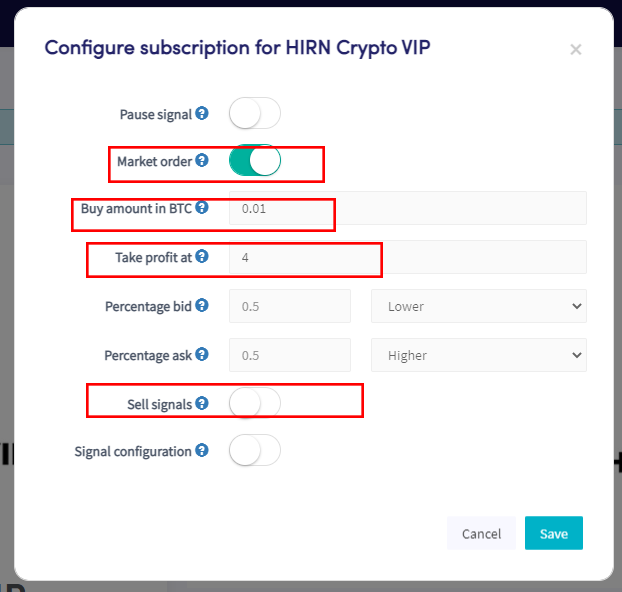 Then select "Config > Baseconfig" in the cryptohopper main menu.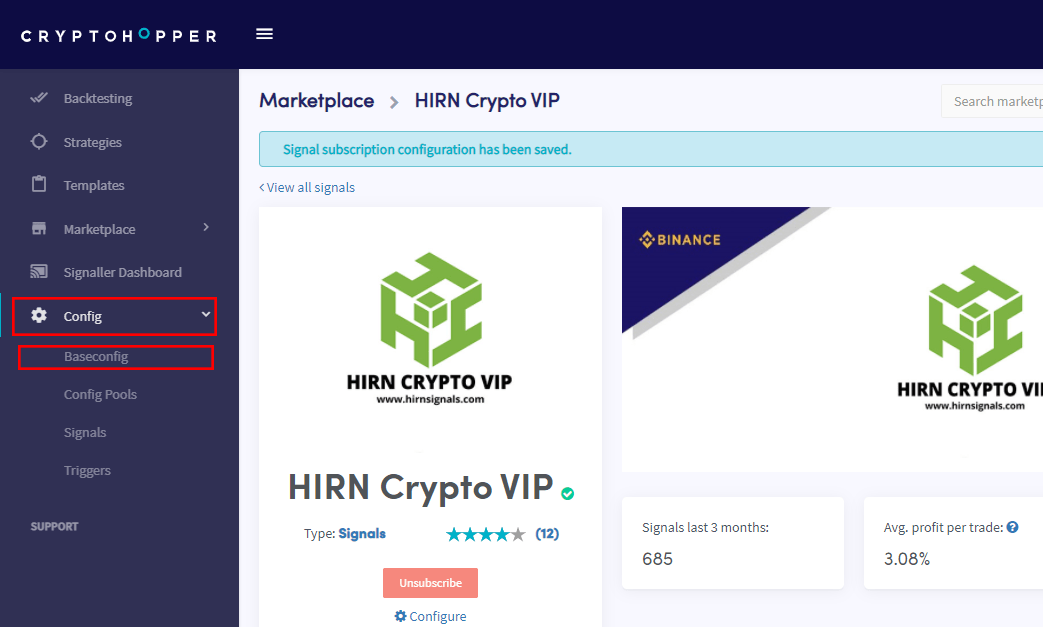 Name: Give your bot a name, so you can identify this bot when you have more than one bot.
Live bot: "Enable"

Paper trading: "Disable"
Exchange: Select your exchange (This channel only supports "Binance.com, us, and huobi.com.)
Order type: "Market"
Max open time buy: "Leave the value as default"
Max open positions: This will vary depending on your cryptohopper subscription plan
Enable cooldown: " Disable"
Only 1 open buy order per coin: " Enable"
Only buy when there are positive pairs and Auto merge positions: " Disable"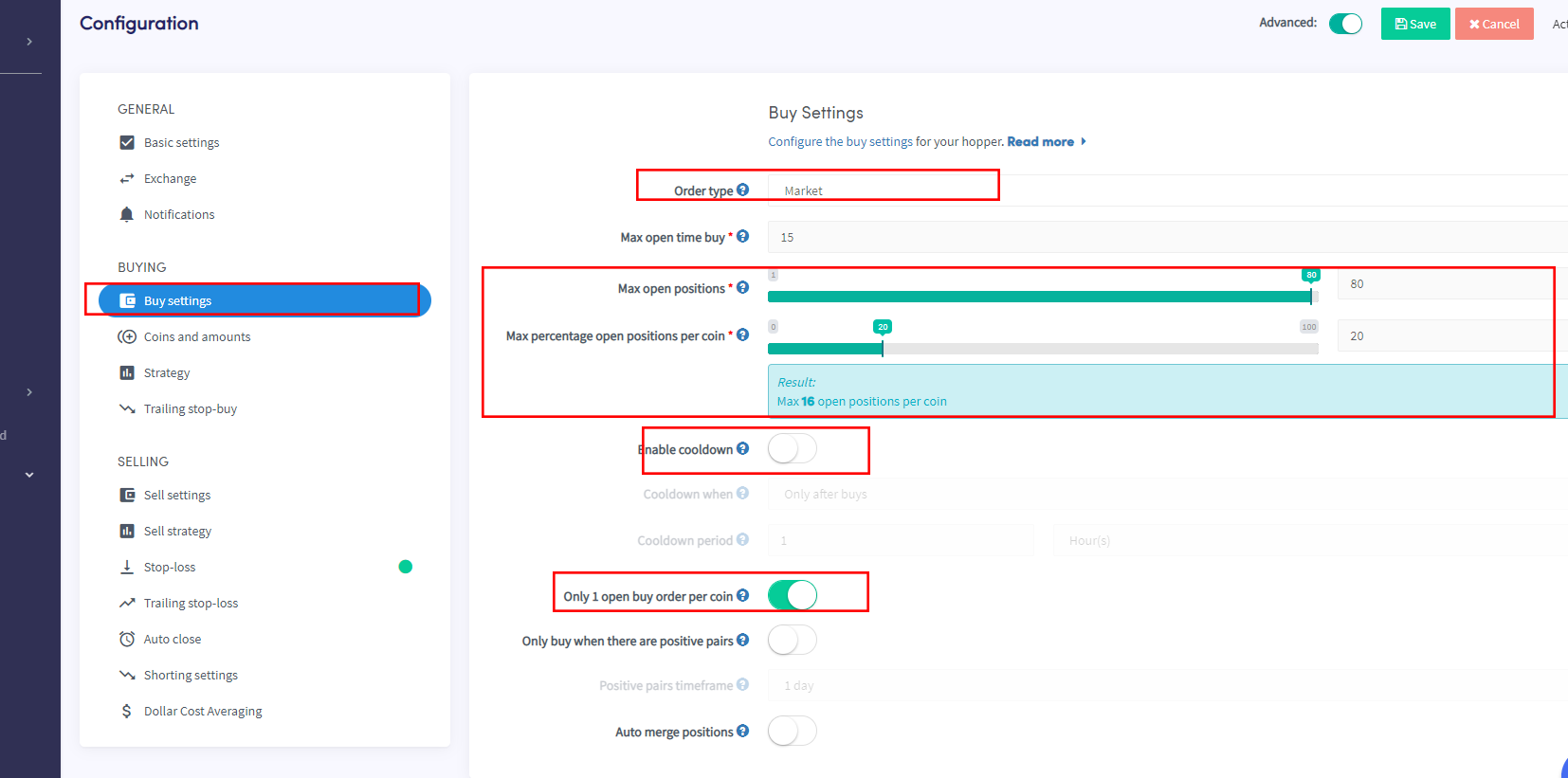 Base currency: "BTC'
Allow all coins (Hero subscriptions only): "Enable"
Minimum 

BTC

amount per order: Add an amount not less than '0.001'  (Enable the 'Force minimum buy amount')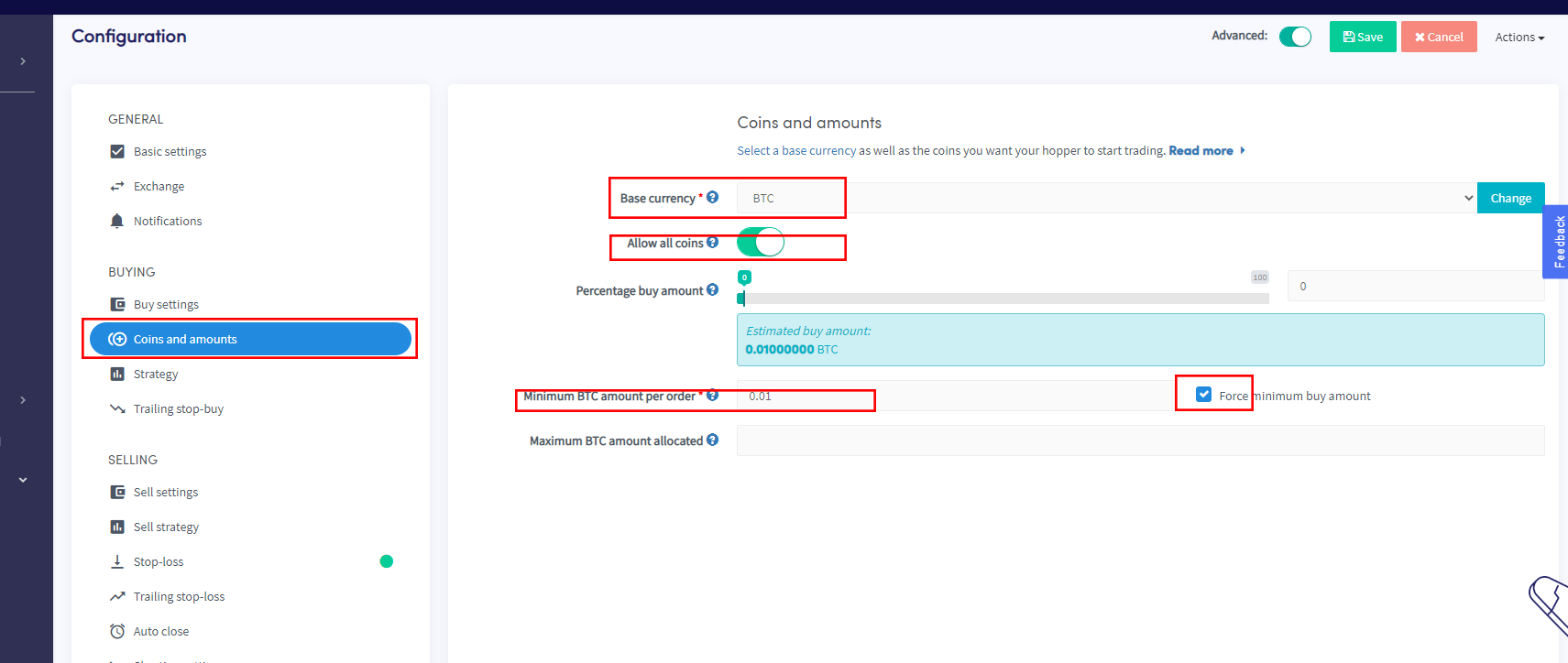 Take profit at: 4%
Order type: "Limit"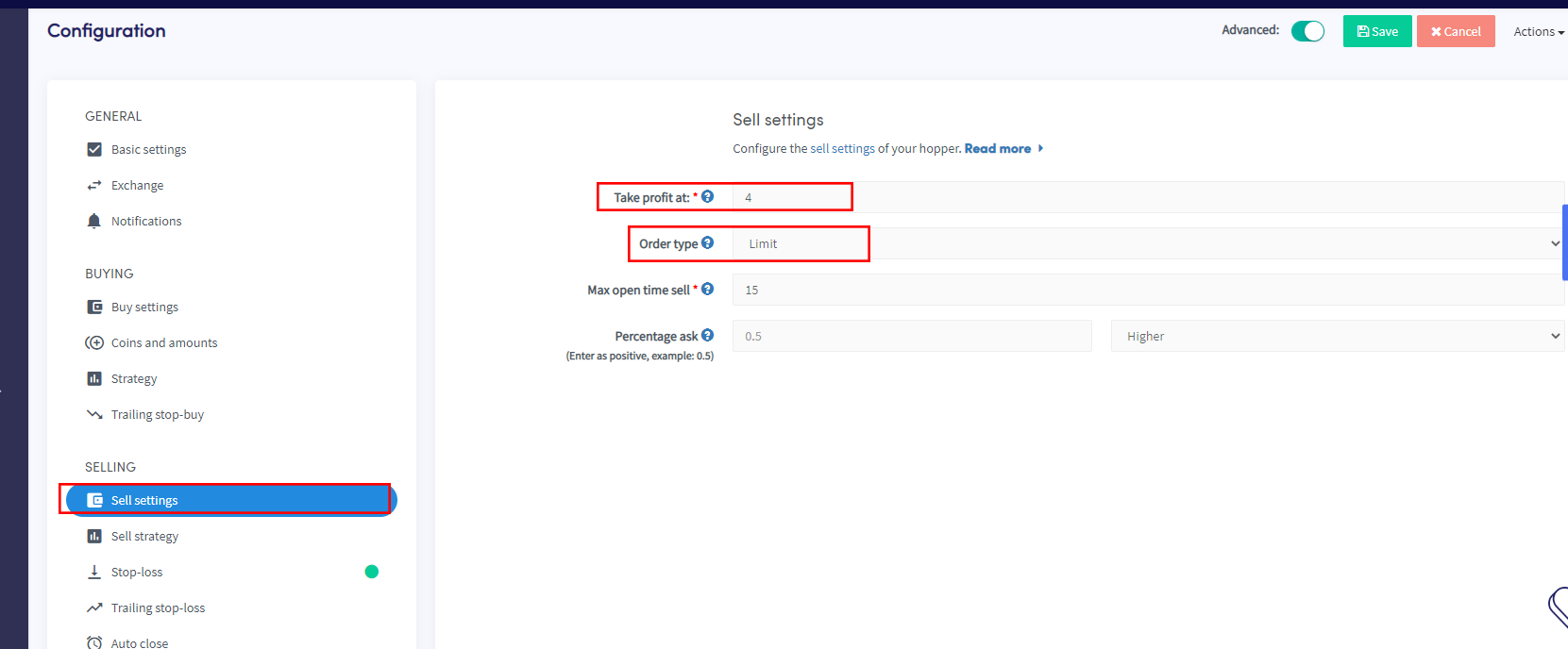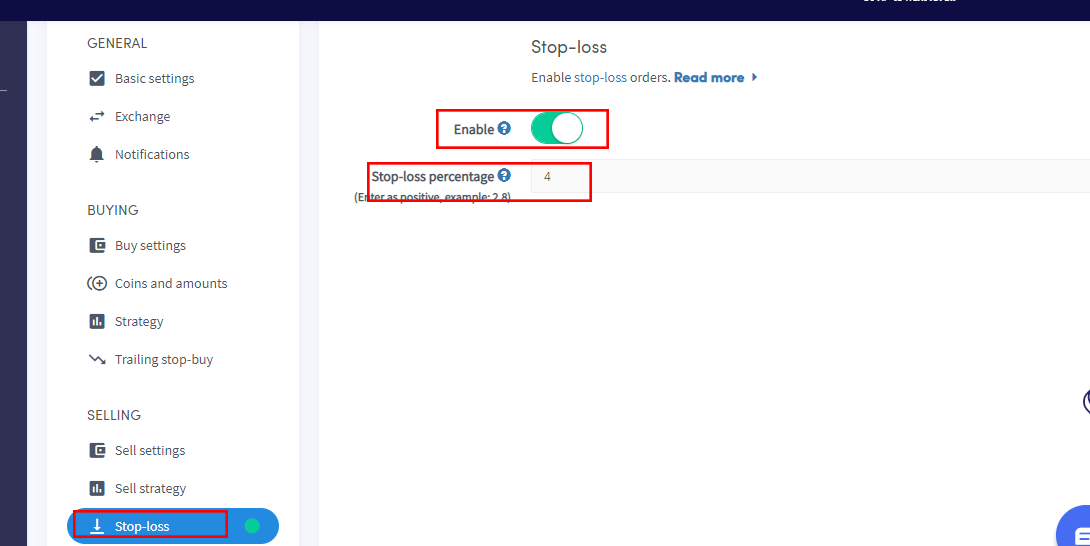 After setting all the parameters, save the settings.

Enjoy trading!
FAQ.
Frequently asked qustions.
Can use these settings for the "HIRN CRYPTO FREE" channel on "Cryptohopper"?
Yes, you can follow these settings, but do not exceed the take profit % of more than 2%.
Linked to my exchange, but nothing happens.
Did you follow all the steps but still it looks like nothing is happening? Check the steps underneath to find the problem.
Check correct API keys
Have you double-checked if you filled in the right API public and secret key? Check if there is a whitespace around the API keys and if the API keys are correct. Re-enter them just to be sure. You can try to generate a new public/secret key as well.
If you filled in a wrong API key, your Hopper gives the following error:
2017-08-21 16:21:30 UTC – ERROR – Could not get open orders: Invalid API key/secret pair.
Balance in collect currency
Does your hopper has a balance in the currency which you selected as collect currency in your hoppers configuration? Check if there are enough funds on your exchange account.
Buying and selling enabled
Is your Hopper/buying/selling enabled? Look in your Hopper dashboard on the right.
Still not running?
If your hopper is still not running after checking these steps, please contact cryptohopper support.