BLOG
How to set up 'Bot' for "HIRN PREMIUM USD" Signals on 3commas.io?
This blog explains how to configure the "HIRN PREMIUM USD" channel for 3commas.io, read till the end to understand how to create a bot.
We provide composite bot settings for 3commas pro subscription users can copy this setting and other subscription users can use 'Simple' bots with the same settings. we give two types of settings on the details page. One is the stop-loss method and another one is used dollar-cost averaging (DCA). The StopLoss method is well maintained with a 1:1.5 (SL: TP) risk-reward so if you decide to change the target or stop loss values then you should maintain the same risk-reward ratio for your settings. use 0.15 as the trailing percentage from the sell target for both settings. If you decided to use a DCA bot for trading then sometimes the signal will need to hold for a few periods. if you don't want to hold your trade or you don't have patience then add manual safety order to the existing orders to reduce the loss percentage. but make sure the fall must be crossed the last safety orders range and our recommended manual safety order position is from the next major support. our signals count will be managing depends on the markets. When the market is in a downtrend, the signals count will be less or no signals. If the market is in an uptrend, of course, there will be a lot of signals.
We provide trading signals in 'USDT, USD, BUSD, And USDC' pairs for the "Binance.com, Binance.us, FTX, Houbi.com, Coinbase(GDAX), Kucoin, Bittrex, Okex" exchanges.
Set bot with an appropriate settings link given below (in the tab), first open the link, and then "copy" the settings.
The following settings are for the 'USDT' pair on the 'Binance' exchange. For other exchanges and pairs, copy the same setting and change the 'Exchange' and 'Pair' list, then save the bot and get started.

#1
Some important things are shared below.
Things to keep in mind when copying Bot settings.
First, open the Bot settings link, then click the 'copy' Button (See the screenshot below.)

Then click the "Edit settings" link ( See the screenshot below).

When you copy, in case you see an error as in the below screenshot, please click the" Ignore and copy bot " button. These demo settings may have been provided by the channel admins using a paper trading account, which is why this error is shown. But you need to set the exchange in your account as your real exchange.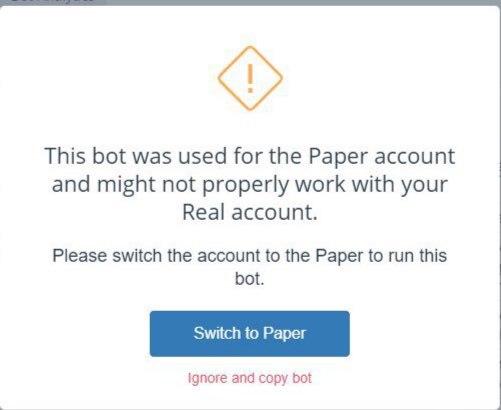 #2
Main settings Section.
Name: Any name for your bot, you will see it in your bots list and active trades. You can name it by trading pair or settings.
Exchange: Select You Binance or Binance.us account
Bot Type:  'Composite' . If you are a user of the 3commas "Advanced" plan, you can only use "Simple Bot" and "Composite Bot" is only available for 3commas "Pro" plan. Create the bot according to your 3commas plan

Active Deal: You can modify the Deal with your affordable funds.
Profit currency: 'Quote'.
Safety order size: Use the same or double amount of Base order size for a safety order.

#4
Deal start condition section
Deal start condition: Select a specific channel do you need to trade with this bot (In this case select the 'HIRN PREMIUM USDT' as Deal start condition).

| Target profit (%) | 1.5% to 3% |
| --- | --- |
| Take profit type | 'Base_order_volume | Quote Currency' |
| Trailing | 'Enable' |
| Trailing deviation | 0.15 |
| Stop Loss | Disable |
---

| Max safety trades count | 4 |
| --- | --- |
| Max active safety trades count | 1 |
| Price deviation to open safety orders (% from initial order) | 2 |
| Safety order volume scale | 1.4 |
| Safety order step scale | 1.5 |
---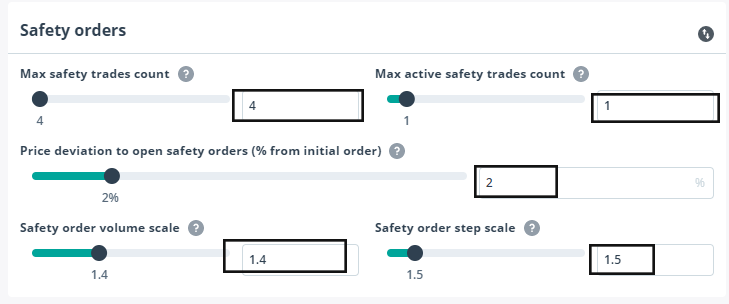 #7
Advanced settings section
Simultaneous deals per same pair- 1
Use other vales by default.

Balance: Here you can see your current balance amount from the exchange
Max amount for bot usage (Based on current rate): It is an approximate calculation with current market rates. The real price of safety orders may differ too. The reason is that exchanges have price and volume step limitations for orders, and the calculation doesn't include these limits. The bot itself includes all these limits and trades with them considered.
Max safe order price deviation: it shows the last safety order price deviation percentage
And finally, click the "Create Bot" then your bot setup is completed